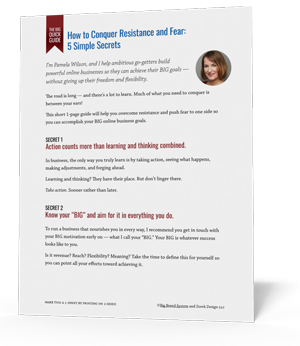 List building, landing pages, launches ... so many tactics and techniques to learn and execute. The good news?

There's a simpler way!
I'm here to tell you that you can IGNORE 75% of the tactics you see.
If you have professional expertise that you want to build an online business around, register NOW for my FREE 1-Page Guide, How to Conquer Resistance and Fear: 5 Simple Secrets.

You'll get instant access to my FREE Plan & Grow BIG course.
It will give you an easy-to-follow roadmap for your online business journey: You'll know WHAT to do and WHEN to do it.
Register now! Your online business is about to get a lot simpler to build.